New Edinburgh Limited placed in administration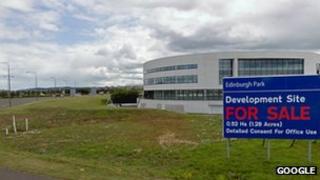 The company behind Scotland's biggest business park, on the west side of Edinburgh, has been placed in administration.
New Edinburgh Limited (NEL) is jointly owned by City of Edinburgh Council and Miller Developments.
Formed in 1990, it was responsible for the creation of Edinburgh Park.
But with the market for office space in trouble, and £18m understood to be owed to Lloyds Banking Group, administrators at Deloitte have been called in.
The company's assets include one partially-occupied office block, currently the headquarters of Business Stream, and 30 acres of undeveloped land near Edinburgh Park railway station. No job losses are expected.
'Generated millions'
Council leader Andrew Burns said: "NEL was set up to generate development and employment and it has been highly successful in doing both. Since its creation in 1990 it has created 7,000 jobs and been responsible for the construction of 1.3m square feet of office space.
"It has also generated millions of pounds in dividends for the stakeholders which has been put to good use funding City of Edinburgh Council services for local residents.
"Unfortunately, the economic climate has changed due to global factors and the demand for office developments has declined. As such, even though overall NEL has been a successful and worthwhile venture it no longer offers sufficient benefit to justify the use of additional council funds."
Edinburgh Park now comprises more than 20 large office blocks, housing 7,000 workers and several large corporations.