Kris Brown faces prison over record £1.7m heroin haul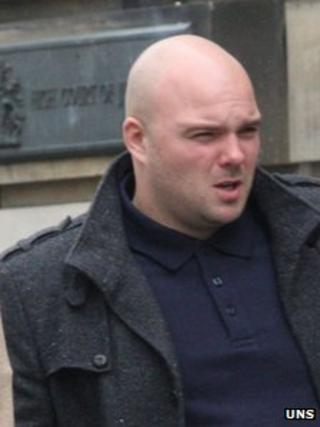 A former Hibs youth footballer is facing a prison sentence after being found with £1.7m worth of heroin.
At the High Court in Edinburgh, Kris Brown was convicted of intent to supply the drug, as well as three other drugs offences.
The 17kg heroin haul is thought to be the largest seizure ever made by Lothian and Borders Police.
Judge Lord Boyd of Duncansby told Brown he was facing a "very considerable" prison sentence.
The court heard Brown was in a drugs factory "chopping shop" with two accomplices when police forced their way in with a battering ram.
There, officers found heroin with an estimated street value of £1.7m.
Distribution 'ready'
In one cupboard they found pressed blocks of the Class A drug ready for distribution with another full of 250g bags of heroin ready to be compressed in a mould.
The High Court in Edinburgh heard that the man who rented the flat, Lee Knott, told officers during the search: "Wait 'til you see the other cupboard."
Officers found powder "all over the place", the trial heard.
They recovered a hydraulic press for moulding the drug in a bedroom, along with mixing equipment and adulterants such as paracetamol for bulking out the drug.
Brown, 29, had denied being concerned in the supply of heroin but was unanimously convicted of the offence by a jury.
Serious charge
He was also convicted of being concerned in the supply of cocaine and mephedrone and of possessing cocaine.
The judge, Lord Boyd of Duncansby, told him: "You have been convicted unanimously of the very serious charge of being concerned in the supply of heroin.
"We have heard this was the largest find of diamorphine in Lothian and Borders and that this could constitute 170,000 deals at street level.
"You are facing a very considerable period of imprisonment as a result."
A total of 17.2 kg of the Class A drug were found at the address.
Brown was in the flat with 23-year-old Knott and co-accused Iain Hunter, 22, when police raided it shortly after midnight on 16 December 2010.
He had denied any involvement, claiming: "I was in the wrong place at the wrong time."
Brown told the court: "I am not guilty of touching any heroin, mixing any heroin, selling any heroin."
He said he was planning to stay overnight at the flat and did not know how his fingerprints were on a sandwich bag which tested positive for heroin.
Knott, from Edinburgh, pleaded guilty during the trial to being concerned in the supply of heroin, cocaine and mephedrone and Hunter, also from Edinburgh, admitted being concerned in the supply of heroin.
The judge deferred sentence on all three men for the preparation of reports and they were remanded in custody.
Dealers targeted
The convictions have been welcomed by Lothian and Borders Police.
Chief Constable David Strang said: "Today's convictions are the result of a significant operation for the force which represents our biggest ever drugs seizure, and I am pleased the hard work and comprehensive investigation undertaken by my officers has yielded positive results for the communities we serve."
The force said the convictions were as a result of wider efforts to target drug dealers in the Lothians.
Operation Congress was launched in April 2010 and has focused on the activities of serious and organised criminals operating in the area.
The initiative has resulted in 31 arrests, with a number those people already serving prison sentences.
Approximately 30kg of Class A drugs with a potential street value of about £3.5m have been seized as part of Operation Congress, along with firearms and £53,000 in cash.