Girl, three, rescued by turntable ladder in Edinburgh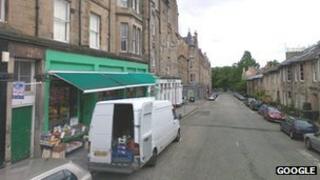 A three-year-old had to be rescued from a top-floor flat in Edinburgh following a fire in a stairwell.
Firefighters reached the girl by turntable ladder before plucking her from a window of the flat in Argyll Place just after 21:00 on Monday.
Lothian and Borders Fire and Rescue Service said the fire was started deliberately in a buggy which had been in the foot of the stairwell.
The parents of the girl were also led to safety by firefighters.
There were 18 firefighters at the scene and the fire, which is being investigated by police, was put out by about 22:00.
The fire service said the blaze had caused thick black smoke in the stairwell.