Dalgety Bay radiation monitoring to be 'extended'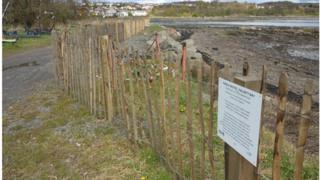 The area of Dalgety Bay being monitored for radioactive particles may have to be extended following new discoveries beyond the cordoned-off area.
The Dalgety Bay Particles Advisory Group, set up by Sepa, has held its fourth meeting with the MoD to discuss the problems on the Fife beach.
Radiation at the site is believed to be from radium paint used decades ago on aircraft instruments.
Radiation was discovered at the beach by accident 20 years ago.
Last month scientists revealed a "significantly radioactive" particle had been found outside the cordoned-off area in which more than 2,000 radioactive objects and particles have been unearthed since October 2011.
Alex Elliott, chairman of the advisory group, said it was concerned to learn that the estimates of sources recovered from Dalgety Bay by the MoD's contractor may have "underestimated the true activity".
He added: "We have advised that in order to allow any form of basic risk assessment to be undertaken at Dalgety Bay, information is needed on the activity of each of the sources recovered which is accurate.
"In the absence of such information no definitive risk assessment can be undertaken on the current risks to beach users."
Wartime aircraft
Mr Elliot said the group had been told that monitoring would need to extend to other areas in light of recent finds.
He said: "The group provided recommendations to the MoD contractor about the potential locations for the next phase of the investigation including trail pits.
"We hope that the citing and timing of this work will be undertaken following liaison with the sailing club to minimise any disruption to sailing activities".
Radium from wartime aircraft is thought to have been in landfill which was used when the foreshore was reclaimed.
The latest radioactive material was found in front of the headland at Dalgety Bay beach, outwith the section of foreshore which remains cordoned off to the public.