Edinburgh Meadows pair robbed 12 people at gunpoint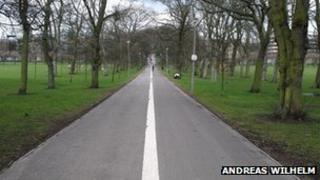 A man and woman who used an imitation gun to rob 12 people late at night in an Edinburgh park were arrested after one of their victims fought back, a court has heard.
Megan Preston, 24, and Steven McGregor, 25, targeted people walking through the Meadows.
But one of their intended victims managed to wrestle the gun from them before calling the police.
Sentence on Preston and McGregor was deferred at the city's High Court.
Preston, of Musselburgh, East Lothian, and McGregor, from Edinburgh, pleaded guilty to assault and robbery and firearm possession charges.
They covered their faces with scarves and hoods and used the dummy gun to ambush three separate groups of people between midnight and 01:00 on 29 March, demanding they hand over cash and personal belongings.
When their first two victims attempted to flee, one of the pair threatened to shoot them in the back, the court was told.
But prosecution lawyer Hugh Irwin said Joseph MacMillan, who was among the third group of people targeted by Preston and McGregor, decided to fight back after being confronted by the pair.
Mr Irwin told the court: "Preston stepped forward and patted down Joseph MacMillan's body and came across his mobile phone in his pocket which she then removed.
"Joseph MacMillan pulled back and Preston then grabbed the gun from McGregor and struck MacMillan to the head with the butt of the gun.
"Although stunned by this, Joseph MacMillan then grabbed Preston and they were on the ground rolling about with Mr MacMillan trying to get the gun from her grasp."
Mr Irwin said Mr MacMillan was able to get the gun and placed it in his rucksack. The group then moved away and were standing outside the nearby Doctors pub when they noticed that Preston and McGregor had followed them.
The duo then asked Mr MacMillan to hand back the gun to them.
Mr Irwin said: "The accused had tried to make a deal to swap items to get the gun back. The complainers however did not return the gun."
The court heard that a Lothian and Borders Police armed response unit arrested Preston and McGregor in Buccleuch Street at 01:05. They were then taken into custody and charged.
Judge Lord Bracadale deferred sentence on the pair for background reports to be compiled.
They are expected to be sentenced at the High Court in Glasgow on 15 August.