Farmer delivers free milk to highlight price issue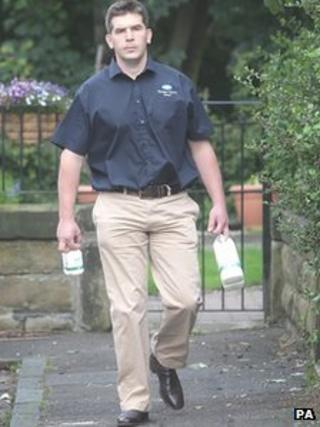 An East Lothian farmer has delivered 300 pints of free milk to urge consumers to press supermarkets for a fair deal for dairy producers.
Farmers are paid up to 6p less than production costs for milk while supermarkets make "considerable profits", according to the union, NFU.
Simon McCreery joined NFU president Nigel Miller in Edinburgh earlier for a "secret milk round".
The milk was produced from Mr McCreery's farm in Gifford.
A National Farmers Union spokesman said: "The secret milk round recognises that dairy farmers all over Scotland want to say thank you to Scottish consumers for their support over the years.
"However, it's easy to take the availability of fresh Scottish milk, cheese, butter and other dairy products for granted.
"While Scottish dairy farmers are proud to be able to provide such quality products, recent cuts mean that most are to be paid a price for their milk that is around 5p to 6p per litre less than what it costs to produce.
"As a result, many Scottish dairy farmers face the difficult decision about whether they can afford to keep milking their cows - putting the supply of fresh Scottish milk, cheese and other dairy products at risk.
"Supermarkets are making considerable profit on every pint of milk or block of cheese they sell, while farmers are currently losing money on every litre of milk they produce.
"We don't think that's fair and many Scottish consumers share that view."