Sex offending teacher Stephen Tait sentenced in Fife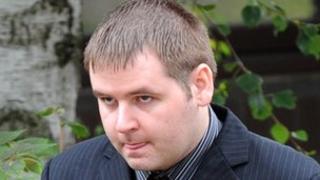 A supply teacher from Fife who sexually assaulted two boys has been placed under supervision for three years.
Stephen Tait, who had denied the offences, touched a six and seven-year-old inappropriately as he was marking work.
The 29-year-old was also given 250 hours of community service.
At Dunfermline Sheriff Court, Sheriff Colin McClory said Tait had avoided jail only because it would allow him to be placed under supervision.
Tait was also put on the sex offenders' register for three years, and banned from leaving his house between 19:00 and 07:00 for nine months.
Sheriff McClory said there had been a "grotesque breach of trust" from Tait, who was convicted after a trial in June, but said the only way the court could keep the public safe from him was not to send him to jail.
The mother of one of the boys left the courtroom in tears as the sentence was read out, branding the punishment "a joke".
She said: "That teacher has destroyed our family. How can in a man in a position of trust do that to a six-year-old boy?"
Sheriff McClory, who described the boys as "compelling witnesses", told Tait: "You won't work in a school again. You sexually interfered with these young boys and it is a grotesque breach of trust.
"However I think custody can be avoided, but only just."
The sheriff said that, within a few months of a prison sentence, Tait would have been out and "essentially be unsupervised in the community".
"I can't allow that to happen," he said, adding: "For public safety, the court needs to be able to keep track of him."