'Varied' Royal Edinburgh Military Tattoo begins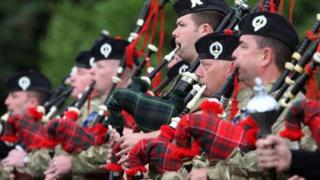 More than 1,000 dancers and musicians from across the world will take part in the Royal Edinburgh Military Tattoo, which begins later.
The 62nd tattoo is celebrating the Queen's Diamond Jubilee with a 90-minute show including military bands from Australia, Switzerland and Norway.
Tattoo producer Brigadier David Allfrey said he hoped audiences would be delighted with the variety on show.
Over the 25 nights of the show, 220,000 people are expected to attend.
Brigadier Allfrey expects the tattoo will sell-out, with almost 90% of the tickets already sold, although conditions have been more difficult.
He said the tattoo would take audiences on a journey from Scotland's ancient past to the present.
A military take on Disney Pixar's Brave soundtrack is to feature, along with Dennis the Menace and Minnie the Minx.
An orchestral re-enactment of the Queen's Coronation of 1953 is expected to be the climax of the evening.
It will feature the preparations, crowds lining the street, bands parading, the Abbey waiting for a princess, the solemn processional, the anointing of a Queen, and the oaths of allegiance.
A 100-strong group of young pipers, drummers and dancers from Queen Victoria School in Dunblane will perform with pipe bands from Melbourne, Canberra and Sydney, and a percussion display will be provided by the Top Secret Drum Corps from the Swiss city of Basel.
Meanwhile, this year's tattoo is the last for pony mascot Cruchan III, who retires after two years of leading the Royal Regiment of Scotland at the show.
Cpl William Perrie looks after the Shetland pony while it is on duty.
He said Cruchan III stole the show last year, adding: "Everyone just loved him. Basically he was the centre of attention every night. But he is 22 now, so 25 nights in a row is a bit much. It's time to retire to his field where he can go at his own pace."