Remploy staff hold second strike in Scotland as part of UK action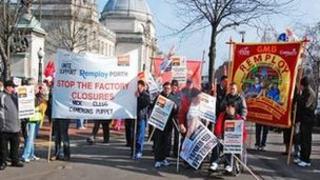 Disabled workers in Scotland have joined a second UK-wide 24-hour strike day in protest over government plans to close their factories.
Staff at Remploy sites across Britain walked out at 06:00 for a second time, following a stoppage last week.
GMB, which organised the strike with Unite, said at least 80% of Scotland's Remploy workforce were on strike.
Remploy refuted GMB's claims as it said most Scottish workers were on holiday so could not be counted as on strike.
Remploy's nine factories in Scotland are facing closure.
The firm's Wishaw plant is due to close on 30 September with Edinburgh, Springburn and Aberdeen sites being postponed for closure until further notice.
'Big effort'
Sites at Dundee, Stirling, Leven, Cowdenbeath and Clydebank are due to close in March 2013 if they are not privatised.
At least 50% of Remploy's UK workforce are on strike, which totals about 1,500 people.
Phil Brannan, GMB's convener of shop stewards for Scotland who has worked for Remploy for 35 years, told the BBC Scotland news website he was on the picket line at Springburn.
He said: "For disabled people to run a picket line is a big effort due to physical disabilities and medication.
"I am disabled and use a stick and it is very painful for me to stand for many hours.
"98% of the workforce is disabled at Remploy but there has been a picket line at every factory."
A Remploy spokesman said: "All 28 workers turned up for work on Thursday in Edinburgh.
"The Aberdeen site was closed because all 14 workers were striking and the gate locks were superglued at Springburn so workers were unable to enter there.
"However, our other six factories were closed because workers were on holiday so they cannot be counted as being on strike."