Weekly rubbish collection to become fortnightly in Edinburgh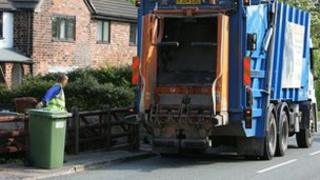 Weekly rubbish collections are to be stopped in Edinburgh in a bid to encourage householders to recycle.
Residents will have their green wheelie bins emptied every fortnight from September to force them to use recycling boxes instead.
Food waste bins will be collected every week. The large black communal bins for flats will still be emptied weekly.
Residents recycle a third of the city's waste but the figure must rise to 50% by 2014 and 70% by 2025 for targets.
City officials said an average of about 0.5 tonnes of rubbish is sent to landfill each year per household, which is "harmful to the environment and leads to huge pressure on energy and resources".
Sealed lids
Food waste makes up about a third of rubbish in an average bin.
Lesley Hinds, Edinburgh's environment convener, said: "Residents can be assured that with another two months until managed weekly collections begin, every person who will be affected will be sent the details.
"Staff will be knocking on as many doors as possible so that they can give these details face to face.
"Information will also be posted on the council website and a public awareness campaign will start at the beginning of August.
"Refuse collections in Edinburgh are being altered in a bid to reduce the amount of rubbish sent to landfill and to encourage households to recycle more."