Edinburgh housing repairs scheme: Plan for major revamp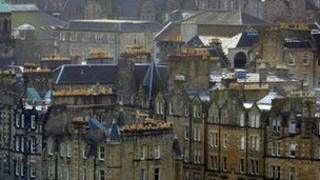 Edinburgh City Council is proposing a major revamp of its controversial housing repairs system.
It is proposing a "complete overhaul" of how it deals with statutory notices, which force owners of private property carry out essential repairs.
The move comes after allegations of bribery, overcharging and unnecessary and poor quality work.
Eleven council staff have been dismissed and six suspended after complaints over procedures.
These relate to the housing repairs system and repairs to council buildings, which is the subject of a separate inquiry.
The council wants to now encourage residents of the city's historic tenements to manage their own repairs, with the local authority intervening only as a last resort.
Edinburgh City Council is to survey property owners, tenants and the public, as well as to hold discussions with companies in the property market.
Councillors will vote on Tuesday 7 August on whether the current system should be changed, with any new service being planned to start by spring 2013.
About 500 people have complained about statutory notices with concerns including costs and unnecessary work.
The council has said it will investigate all outstanding 513 disputes.
Edinburgh City Council has been using a system of statutory notices to ensure essential repairs are carried out on its historic tenements.
Under the statutory notice system, Edinburgh City Council could intervene to organise repair work on private properties when the owners of shared buildings could not reach agreement.
Safe and sound
Alasdair Rankin, Edinburgh City Council's finance and resources convener, said: "We must have a clear break with the past to reassure the public that the council has cleaned up its act.
"While we understand the benefits that the previous system, when working properly, had to some property owners, the circumstances in which the council intervenes on maintaining private properties needs to be much more under control.
"Ultimately the responsibility to keep a building safe lies with the owner.
"But we all have a shared interest in the fabric of our city being safe and sound.
"We will always take steps to protect the public from dangerous buildings, but what we want to find out from the public is what they think about the extent of our involvement in other situations."