Error leads to early SQA exam results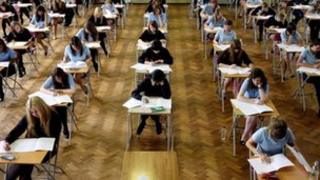 A blunder has allowed some pupils to find out their exam results several days early, BBC Scotland has learned.
Pupils are not due to find out how they performed in the Scottish Qualifications Authority exams until 7 August.
But scores of pupils with firm offers from the University of St Andrews have been able to find out prematurely by logging on to the university's website.
The SQA said it has been in talks with the university over the error.
It is believed to have happened when the university was uploading exam results from the university application service Ucas, to its computers.
Schools, colleges and universities receive the results of Highers and Advanced Highers the week before pupils do.
Confidential results
The loophole which opened up on the university portal iSaint on Wednesday was closed on Thursday morning after a parent raised the alarm.
University staff contacted SQA to let them know what happened.
St Andrews and Aberdeen made the same error in 2010.
SQA says there is no indication another institution has erred this time.
A spokesman for the exam board said: "We are disappointed that an error at the university has resulted in some of their applicants being able to view confidential information.
"We are expressing our disappointment to the university in the strongest terms and seeking urgent assurances that such an error can't happen again."
An Edinburgh mother, who asked not to be named, said she was surprised when her daughter walked into the room on Wednesday and told her she had her SQA results.
"I said: 'You can't have.' But it was true. Now some people have their results and have shared that information with friends who have not, leaving them trying to guess how they have done in comparison. There's a big emotional investment in these exams."
The parent, whose daughter was also affected by the SQA blunder last year which resulted in 30,000 candidates receiving their results a day early by text, said: "It makes the people who handle information look silly. And it perhaps leaves young people wondering if they can trust people who are responsible for personal information. You do wonder about the ability of people to manage the process."
Internet forum
A spokesperson for the University of St Andrews said: "The university regrets this breach of embargo, which was caused by a combination of a system error and the efficiency of staff who processed data early. The university has notified the SQA of the mistake.
"As a result of the temporary glitch in our computer systems, it became possible for 65 students already admitted to the University of St Andrews to access the results of their SQA National Qualifications on the university website for a 12 hour period between Wednesday evening and Thursday morning.
"The matter was brought to our attention by a parent and action was quickly taken to close the loophole.
"It is very important to stress that this error did not affect people seeking admission to St Andrews or awaiting a decision upon a conditional offer. The ability to see exam results on our website applied only to students who had already accepted an unconditional offer from St Andrews and students could see only their own results and not those of others."
Some students used an internet forum, The Student Room, to alert others to the leak.
One said: "Hi guys, thought you might want to know that if you've done SQA exams this summer you can get your results a few days early by going onto iSaint and looking at your details (it means on Tuesday when everyone is stressing you can sit back and relax)".
The mistake in 2010 affected 38 students. This time 65 were affected.