Edinburgh Legionnaires': Professor calls for inquiry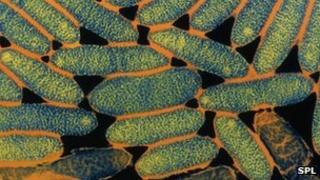 A leading professor has called for a public inquiry into a deadly outbreak of Legionnaires' disease in Edinburgh.
Prof Hugh Pennington said the formal route was necessary due to concern that too few inspections are being carried out at potential sources.
The disease has claimed the lives of three men since it first emerged at the end of May and is thought to have been caused by a cooling tower in the city.
More than 100 people have been treated as either confirmed or suspected cases.
Prof Pennington, emeritus professor of bacteriology at the University of Aberdeen, said: "It's a nasty bug, the infection is preventable and it's a very expensive thing to treat when it happens.
"Spending more money on the regulatory side, making sure businesses have their cooling towers in order, would be money well spent."
"This is not a new problem, a public inquiry would be the most effective way to establish the facts and to prevent yet more outbreaks."
'Authoritative voice'
Prof Pennington has joined the Scottish Labour party in calling for the Scottish government to hold a public inquiry.
In a statement issued by the party he added it would be "optimistic" to assume inspections are held even once a decade at the hundreds of cooling towers across the UK.
He made the call after receiving information from the Chartered Institute of Environmental Health.
Labour health spokeswoman Jackie Baillie said: "Prof Pennington's intervention is significant and his authoritative voice should be a reason for the Scottish government to pause and reflect on their decision not to have an independent inquiry into this outbreak."
The outbreak was declared over by health officials last month.
A Scottish government spokeswoman said: "It would be entirely inappropriate to comment on a public inquiry at this time.
"The Health and Safety Executive is continuing its inquiries and any consideration of a public inquiry would have to wait until their investigations are complete."