Tripping the light fantastic on Arthur's Seat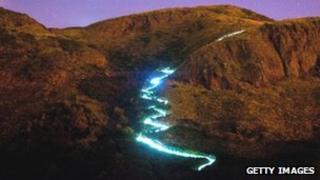 Glasgow-based environmental arts company NVA like to take their audiences out of theatres and into the landscape.
In the past they have led audiences to Skye, to Argyll and to Perthshire, where they have staged light and sound interventions in the most remote locations.
Arthur's Seat may not be remote. The hill sits slap bang in the centre of Edinburgh - but there is something about being up there in the dark, with large groups of walkers, runners and general passersby, that makes the whole thing feel detached from the city, and slightly odd and eerie.
This is Speed of Light - their biggest and most complicated project to date.
Combining sport and culture in a celebration of both running and the landscape, it has been three years in the making and involved months of rehearsal for hundreds of volunteer runners.
We set off at a leisurely pace and as we reach the brow of the first hill, we catch sight of the first runners in specially created lightsuits. As they move in a choreographed routine across the hillside, their lights change colour and flicker.
Rivers of light
As we clamber higher, the sight of the group behind us who are, like us, carrying lighted walking sticks, is equally impressive.
By the time we reach the top, there are three winding rivers of light below.
It is tough at times. In the dark, and on uneven ground, it is often not possible to look at the light displays and keep a steady footing, but there are plenty of rest points, including a much-needed viewing point near the top where a cool breeze is welcome.
There our light sticks reveal a new dimension, emitting a series of high and low-pitched sounds when they reach altitude.
Then, as we sit on the grass, with lightsticks humming away, the runners create a series of formations in the glen beneath us.
For the effort it has taken to reach the top, it is a fleeting pleasure. But sitting in the dark with a crowd of strangers as the breeze blows is a strange and bonding experience in itself.
Arthur's Seat has never seemed busier between those involved in the project and those who have just come along to see what's going on.
A cheery group of tourists pass at one point. Some teenagers offer a share of their illicit stash of booze. It all adds to the slightly surreal experience.
As we reach the bottom and the warm lights of the base camp, our little group returns the lightsticks and disperses into the night.
It is hard not to feel some sense of achievement - as well as some mildly aching muscles.
And new levels of admiration for those who trip the light fantastic in the Scottish landscape every day.