Network Rail in U-turn over Waverley Station taxi ban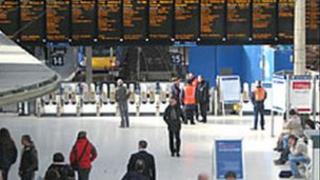 Taxis will continue to operate from Edinburgh's Waverley Station following a U-turn by rail chiefs.
Earlier this year, Network Rail announced that taxis and cars were to be banned permanently as part of anti-terrorism measures.
However, a proposal has now been agreed which will allow taxis access to the station through a secure entry system.
Network Rail and City of Edinburgh Council aim to have the new arrangements in place by January 2013.
Access for specialised disabled organisation vehicles will also be maintained.
Drop-offs for private vehicles will be moved to Market Street and there will be free short-term parking in New Street car park.
Network Rail's Scottish route managing director David Simpson said: "We are pleased to have a proposal in place with City of Edinburgh Council which will see a controlled number of taxis continue to use the station facilities.
"We are certain that this arrangement, combined with the enhancements which are now in place at Waverley, will make the station a better environment for all users."
Councillor Lesley Hinds, the council's transport convener, welcomed the agreement.
She said: "Both parties recognise the importance of balancing security concerns with the need to maintain adequate public access to the station, especially for older people or those with mobility issues."