Edinburgh Fringe: How much do people pay for free shows?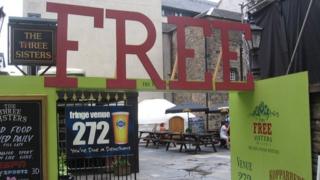 There are 800 shows at the Edinburgh Fringe at which the audience does not buy a ticket or pay anything to enter. So, how has the "free" idea changed the Fringe and how much do people actually pay for these shows?
"It is effectively busking. People pay what they think it is worth," says Alex Petty, who runs the Laughing Horse Free Festival.
Performers, mainly comedians, invite in an audience to see their show for free and then ask for a contribution on the way out.
The same performers who have just stood on the stage for an hour now wait by the door with a bucket.
There are no lighting crews or technicians or any other support staff and the whole performance usually takes place in a room in a pub or nightclub.
"The breakthrough I made was realising that, particularly comedians, were paying for a full specification hired theatre rig in their venue and they did not need that," says Peter Buckley Hill, or PBH as he is more often known, the driving force behind the Free Fringe.
He says people thought he was mad when he first went free for his own shows way back in 1996, others were threatened by such a bold move.
It was almost a decade before the idea really took off but now hundreds of shows are run on the free model.
PBH and Petty worked together for a couple of years but now operate separate ventures.
It could be said that PBH is a "free" evangelist whereas Petty takes a more pragmatic approach.
Petty, who runs venues at other Fringe festivals which do not follow the free model, says for him "free is not a deep-set ideology".
He says it just happens to offer the best deal for performers, punters, venues and, of course, it serves his own purposes as a comedy promoter.
For Buckley Hill, free represents what people pay to go into a venue but "much more importantly" it refers to the money the artists pay to perform.
The venues let the performers use the space for nothing and hope it will bring in extra business at the bar.
This is in contrast to some of the Fringe's mega-venues which charge the artist in advance for appearing, a cost which can run into several thousand pounds.
The "big four" paid-for venues, Pleasance, Assembly, Gilded Balloon and Underbelly, operate what Petty calls a "pay-to-play" policy.
He says: "Performers are going home losing several thousand pounds each year putting on a show."
One of Edinburgh's most high-profile acts, comedian Stewart Lee, has caused anger with his claims that the big four's "corporate cattle rustling" had made smaller venues almost invisible and had led to higher prices for performers.
Nica Burns, who runs the Foster's Edinburgh Comedy Awards, said the free shows were not invisible and would account for 25% of the 536 shows to be judged for this year's awards.
However, at the launch of her awards, Ms Burns said the general quality was not as good as the bigger venues but it was getting better and the free model was encouraging people to take more risks.
She defended the "big four" Edinburgh operators, saying they set up many venues from scratch and had large overheads.
They also had the technicians and the venues to put on shows which often could rival theatre productions.
Both Buckley Hill and Petty admit that ticket prices at the paid-for venues have come down slightly over the past few years, and say this could be a reaction to the number of free shows.
However, PBH insists that the paid-for model inhibits risk.
He says: "If a performer is charging £10 or more for a ticket then the public will demand something satisfying.
"The easiest way to satisfy the public is to give it exactly what you think it wants, much of which is extremely good. But is it really a Fringe if you do that?
"With us the public can try things out and, if they don't like it, leave at zero cost."
That makes the public "more open to what they get", he says.
Comedian Robin Ince, who, among other radio and TV credits, co-hosts Radio Four's Infinite Monkey Cage with Prof Brian Cox, is one of the star performers of the Free Fringe.
He could easily sell out much larger paid-for venues but he says the amount charged by big venues affects performers.
He says: "When I was thinking people were paying £14 for an hour-long show, it placed me under a level of pressure which meant you did not deliver a better show.
"You were so worried about delivering that you may do something more mediocre."
He says that he spoke to comedian Phil Jupitus, another big star who has embraced the free model, and they agreed that it gives a level of freedom, a knowledge that the audience knows "the deal".
But Ince says: "You are always going to try your hardest.
"The fact that the shows are free does not make you think it does not matter."
So if audiences understand the deal, how much do people put in the buckets at the end of a show?
PBH insists he does not know but he says that, even during the first nine days of a Fringe which has been hit by people staying at home to watch the Olympics, his own Free Fringe show has covered the cost of his accommodation in Edinburgh, his train fare and his place in the Fringe programme.
Buckley Hill says the amount per head is obviously much less than for a paid-for show but the performers find it much easier to get an audience.
Petty says: "We are getting an average of about £1 to £1.50 a head per show. People I have spoken to have said a similar kind of figure.
"It works out because you are getting 80 or 90 people to a show."
Petty adds: "Buckets are a good barometer.
"If you are standing there at the end of the night with a bucket that's got a few coppers and a bit of chewing gum at the bottom of it, then you'd better have a look at the script of your show."
By that measure, Helen Arney and Rob Wells, whose Domestic Science show is on at lunchtime at the Canon's Gait, are doing pretty well.
Rob, whose day job is as a data analyst, has been collecting data on how much people have paid.
"We actually know how much per audience member we get on each day. We average at £2.50 per head," he says.
Rob says it is not difficult to ask for the money.
"If you are doing the Free Fringe then it does not become awkward, it is the same way as a street performer asks for money.
"People do understand, they pay for what they enjoyed."