Standard Life sees profits increase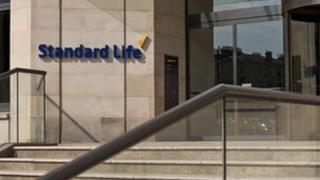 Edinburgh-based pensions, savings and investment firm Standard Life has secured higher profits, largely helped by cost-cutting.
It reported operating pre-tax profits of £302m for the first half of the year, an increase of 15%.
The UK figures were particularly strong, with pre-tax profits up from £87m in the first half of 2011 to £141m this year.
Earnings from its Canadian operations fell back.
The costs of winning new business were significantly down on the full-year figure for 2011, from £175m to £144m, and the cost of maintaining existing business also fell.
There was a slight increase in assets under management at the company, rising from £198bn at the end of 2011 to £204bn in late June.
New sales of long-term savings products fell back, compared with the start of last year, and inflows of long-term savings fell from £2.9bn to £1.6bn.
Increased profits
Standard Life Investments, which manages the company's savings assets while 47% of its business is in managing assets from elsewhere, saw an inflow of third party assets of £600m, down sharply on last year's first-half figure of £2.9bn.
Chief executive David Nish said the environment looked set to remain challenging.
He said: "We have delivered increased profits, cash flow and dividends and we are achieving improvements in operational and financial performance.
"The UK results, where profits benefited from higher income and significantly lower costs, demonstrate the strength and scalability of our propositions and our brand.
"The industry is undergoing a period of significant change and we believe that this brings opportunity. We are well prepared for the regulatory and market changes on the horizon, and have invested to make sure we are even better placed to meet the needs of our customers and their advisers."
The interim dividend for the firm went up 6.5% to 4.9 pence per share.