Managers buy legal firm Law at Work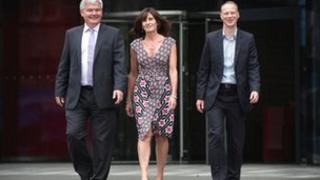 Managers of a Scots law firm have bought the company from its parent partnership, Maclay Murray & Spens.
Law at Work was established in 2001 and has a staff of 30 specialising in employment law and increasingly advising employers on health and safety.
It is planning to move to new offices in Glasgow and Edinburgh.
Last year, it reported a 23% increase in turnover to £1.53m and grew its profits by 5.2%.
The new owners include the former chairman and chief executive of Maclay Murray & Spens, Magnus Swanson; Law at Work chief executive Jane Wright; and director of legal services Donald MacKinnon.
Ms Wright commented: "This is a significant step forward for Law at Work and gives us a new platform to secure further growth as the market for legal services continues to develop."
Mr MacKinnon said: "Employment law is undergoing a number of significant changes in the next year. This, coupled with the continuing recession, signifies that many businesses are reviewing their current staffing provisions.
"This provides an excellent opportunity for Law at Work to offer professional advice in a manner that suits the client's bottom line."