Little Chef worker jailed for stealing £700,000 at Dreghorn branch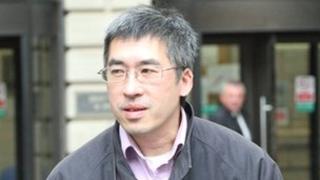 An Edinburgh restaurant supervisor who stole £700,000 from his employers in order to pay off gambling debts has been jailed for 27 months.
Yiuman Poon, 48, used a credit card machine at Little Chef 's branch at Dreghorn Link to transfer the money into his accounts.
Poon carried out the scam after telling colleagues not to turn up for work on 13 November 2011.
He pleaded guilty to fraud at Edinburgh Sheriff Court last month.
Sentence had been deferred for background reports.
Defence solicitor, Murray Robertson, told Sheriff Alistair Noble that Poon accepted this had been a very significant breach of trust and that a custodial sentence would be imposed.
He said: "This was fairly spectacular stuff but it had very little possibility of success."
The defence lawyer added that his client had co-operated fully with the police.
He said Poon's mental health was not particularly good because of the pressure he was under due to his problems with gambling.
Sheriff Noble told Poon that three years would have been the appropriate sentence, but bearing in mind that he was a first-offender, his co-operation with the police, the early guilty plea and the stresses he had been under in his personal life, he would reduce the sentence to 27 months.
Poon had told colleagues that an electrical fault had occurred with machines in the restaurant and it would prevent the shop from opening.
However, he was caught because he forgot to tell a colleague, who was due to begin their shift in the afternoon.
The worker arrived to find the restaurant deserted and a refund receipt for £458,000 lying on the floor.
Police were called in and they found that the £458,000 had been transferred into a bank account controlled by Poon.
Officers also discovered another £242,000 had been transferred the same day into another bank account controlled by Poon.
When police officers went to arrest him at his flat the following morning, the court heard how Poon managed to avoid arrest by escaping out of his top-floor window.
He then shimmied 100ft (30m) down a drain pipe before jumping on to a tree - he spent eight days on the run before he handed himself into police and confessed.