Clown Doctor Brown wins Foster's Edinburgh Comedy Award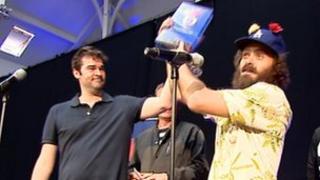 Silent clown Doctor Brown has won the prestigious Foster's Edinburgh Best Comedy Show Award.
The annual accolade - originally known as the Perrier - is now in its 32nd year and has previously been won by comedians such as Lee Evans, Steve Coogan, Frank Skinner and Sean Hughes.
Doctor Brown scooped the £10,000 top prize for his show, Befrdfgth. Daniel Simonsen was named best newcomer.
The 2012 Panel Prize was awarded to mime act The Boy with Tape on His Face.
Doctor Brown is the stage persona of American comedian Philip Burgers. His show features classic physical clowning comedy and absurd visual humour and was described as "breathtakingly brilliant".
The comic cites Rowan Atkinson, Tommy Cooper and Woody Allen as his influences.
The awards were presented by musician Suggs and last year's winner Adam Riches at the Dovecot Studios in Edinburgh.
'Play and silliness'
Awards producer Nica Burns said: "Doctor Brown's show starts with fun pranks and then takes the audience on a roller coaster from inspired lunacy to pulling your heart strings.
"He can express emotion with a gesture, a look or an eyebrow. A breathtakingly brilliant clown with enormous charisma in a fantastic show."
Speaking to BBC Scotland after receiving his award, Doctor Brown said it was great that people recognised his kind of work, which he described as "play, silliness, fun and relaxation."
"Star" names, who have already had a TV series or can perform in a 500-seat venue under their own name, are not eligible for the Foster's Comedy award.
However, the judging panel did see 536 different shows over the three weeks of the Fringe.
The other nominees for the Best Show Award included sketch troupe Pappy's, Canadian absurdist Tony Law, Australian comedian Claudia O'Doherty and 27-year-old Kettering funnyman James Acaster.
Stand-up Josie Long featured for the third time in a row on the shortlist.
In the Best Newcomer category Norwegian Daniel Simonsen's show Champions was up against David Trent: Spontaneous Comedian, Discover Ben Target, Joe Lycett: Some Lycett Hot, and Sam Fletcher: Good on Paper.
Simonsen wins £5,000.