James Paterson jailed for attempting to murder three pregnant women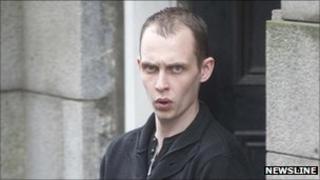 A Fife man who was convicted of trying to murder three pregnant women, raping two of them and assaulting a baby, has been given a life sentence.
James Paterson, 24, was earlier found guilty of carrying out a string of attacks on the women over a period of five years.
Paterson must serve at least five years before he can apply for parole.
The offences were committed between January 2006 and December 2010 at addresses in Edinburgh and Fife.
Paterson will also remain on the sex offenders register indefinitely.
Teeth marks
A trial heard that he left footprints on the stomach of one victim while she was pregnant.
Another told how she still bore teeth marks where Paterson had bitten her two years earlier.
He was said to have jumped on a woman's "baby bump" as if it were a trampoline and all three women told a jury they had feared for their lives when Paterson tried to throttle them.
Lord Bannatyne told Paterson there was no alternative to a life sentence, known as an order for lifelong restriction.
Paterson can only be freed when the parole board consider he is no longer a danger and will remain under supervision for the rest of his life.
The Scottish Parliament is currently considering changes to the law which will enable judges in such cases to impose longer minimum sentences.