Derek Burns identified 23 years after his death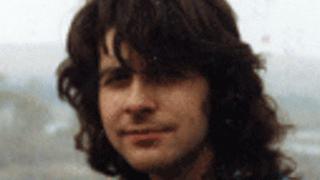 A man who was hit and killed by a train has been formally identified more than 23 years after his death.
Derek Burns, of West Calder in West Lothian, was struck by a St Albans to Brighton train in West Hampstead, London, in March 1989.
He has now been identified using advanced DNA profiling not available to investigators when he was killed.
His father, Derek Burns Snr, has spoken of his relief at his son finally being identified.
Despite extensive inquiries at the time, police had been unable to identify Mr Burns' body.
The incident was declared non-suspicious by investigators and, following an inquest held at St Pancras Coroner's Court where an open verdict was recorded, the unidentified man's body was interred in a grave at the Islington and Camden Cemetery in East Finchley.
Now, recent inquiries by British Transport Police investigators established that on the day of the incident, 20-year-old Mr Burns had visited his girlfriend at her address close to West Hampstead station before discovering that she was ending the relationship.
He had been reported missing to Lothian and Borders Police the day before and, after visiting his girlfriend, was never seen again.
Following this key breakthrough, DNA samples were collected from the body in the cemetery, as well as from the dead man's relatives.
The samples were then sent to a laboratory for DNA profiling, with Mr Burns' identity confirmed through his biological ties to his family.
The investigation formed part of Operation Santana, a joint operation between BTP and UK Missing Persons Bureau to establish the identity of unknown people who have died on the rail network.
In a statement released through police, his father Derek Burns Snr said his son had been a "happy boy" who was "always polite, well-liked and was no trouble to us".
He added: "He was unemployed at the time he went missing, having finished a youth employment scheme that was operating at the time. I was a company representative and sometimes he would come with me for the day.
"The morning he went missing I was going to the borders and popped into his room to see if he would like to come with me. The weather was awful and he said 'no thanks dad,' so I said okay and left. He did not appear for dinner that night or contact us, which was very unusual for him as he was a home person."
'Unanswered questions'
Mr Burns said he later found out his son had gone to London to see his girlfriend and find a job. He left without taking his driving licence, passport or any spare clothes or toiletries with him.
The lack of any identification documents was the major reason for the delay in identifying him.
Mr Burns added: "We are relieved that our son has now been found and we can at last put our minds at peace. We are very grateful to the police for the work and effort they've put in, and would also like to thank the help and assistance we've had over the years from the charity Missing People.
"Finally, I would like to pass my thanks to all those in West Calder who have been so helpful and supportive during what was a very difficult and sad time for us."
Det Ch Insp Simon Taylor, who led the inquiry, said: "Derek Burns' family will clearly have many unanswered questions about what took place that day, and about the circumstances leading up to Derek's death, but we hope this will provide them with some comfort, solace and ultimately a form of closure."
Martin Houghton-Brown, chief executive of the charity Missing People, said: "We are hugely grateful to Derek's father, Derek Burns Snr, who walked more than 1,000 miles to raise awareness and funds for the charity while tirelessly searching for his son.
"He has helped us to be able to continue to search for the 250,000 people who go missing every year, and support their families left behind."
The St Pancras Coroner was notified last week and official records will now be amended to confirm Mr Burns' death.
His body will be repatriated from London to Scotland and a funeral will be held in due course.