Edinburgh festival fireworks viewing area moved from Inverleith Park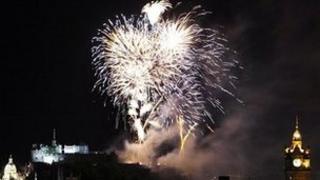 Bad weather has forced the organisers of Edinburgh's end of festival concert and fireworks display to move its family viewing area.
Big screens and loudspeakers are set up in Inverleith Park every year to allow more people to enjoy the spectacle.
But the park is waterlogged after heavy rain and cannot be used for Sunday night's event.
Alternative viewing areas will be set up on Waverley Bridge and the north of Princes Street.
Waverley Bridge is not usually an official viewing area, but will close to traffic this year to provide more space for people to gather.
Speakers will also be installed to relay the music played by the Scottish Chamber Orchestra as the fireworks are set off over Edinburgh Castle.
There will also be another viewing area on the north of Princes Street, between Castle Street and Frederick Street, for families and people with disabilities.
The Edinburgh International Festival said it would put a proportion of its allocation of Princes Street Garden tickets on sale on Thursday at 10:00 rather than the day before the display, as is usually the case.
It said this was to help those who had planned on going to Inverleith Park to make alternative arrangements.