Heather McKay appeal a week after going missing from Dechmont in West Lothian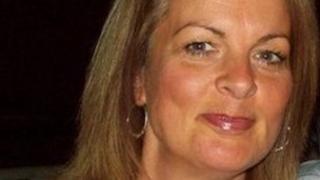 Police have said they are becoming increasingly concerned about a woman who went missing a week ago.
Heather McKay, 51, was last seen at a friend's house in Dechmont, near Broxburn in West Lothian, on the morning of Friday 24 August.
Since then she has failed to make contact with anyone.
Officers have been conducting high visibility patrols around the area, as well as distributing leaflets and speaking to the public.
They hope that regular commuters and parents dropping children off at school might hold vital information which could help them trace Ms McKay.
In a statement her children, Andrea and Kevin Waddell, said: "We have always been a really close family and we miss her so much.
"We just want to know that she is safe and well, and there are so many people out there who care about her and want her to come home.
"The family has received so many messages of support from the local community and beyond and they mean so much to us - it's really comforting to know so many people are concerned and trying to find her."
'Specialist teams'
Police are following up a number of unconfirmed sightings of Ms McKay on the day she went missing.
CCTV is also being viewed by specially-trained officers, and specialist search teams are out in the area.
Insp Neill Whiteside said: "A week has now passed since Heather McKay disappeared and we are growing more concerned for her welfare as each day passes.
"I hope that today's activity plays a vital part in providing lines of enquiry to help us in our efforts to trace Ms McKay."
Ms McKay had been staying with a friend who left for work at 07:30. She is thought to have gone missing sometime between then and 08:30 and is not thought to have had a mobile phone with her.
She is described as being about 5ft 7in tall, of medium build with hazel/green eyes and brown hair.
Ms McKay speaks with a Scottish accent and has a small burn mark on her forearm and a small tattoo on her right shoulder.
She may be wearing a light blue Berghaus rain jacket, jeans and a pair of brown walking boots.