Missing holidaymaker John Ronald, 74, found in Spain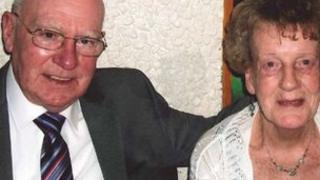 An elderly Edinburgh man missing for two days in Spain has been found.
John Ronald, 74, from Restalrig, and his wife Martha, 78, had boarded a bus to their holiday apartment in the hills in the Benalmadena region on Monday.
However, they had to sit in separate seats and Mr Ronald did not notice his wife getting off the bus at 11:40.
He was found 15 miles away in Fingerola, dehydrated and with worn shoes. Mr Ronald said he was unable to remember anything.
Mr Ronald suffered a stroke two years ago, which had left him with dementia-like symptoms.
The couple have been holidaying in the same area for several years and have a number of friends in the area.
Mr Ronald's nephew Colin Mackay, a security officer at the Scottish Parliament, told the BBC Scotland news website the family had been "frantic with worry".
"We are so thankful he has turned up and really relieved," he said.
"He has lost weight, is dehydrated and his shoes are worn through, so he must have been doing a lot of walking while he was missing."