Colin Marr death: Solicitor General to ask police for re-investigation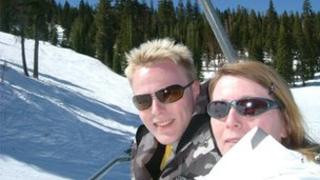 The Solicitor General has asked Strathclyde Police to re-investigate the death of a man who died from a stab wound to the chest in Fife.
Colin Marr, 23, from Lochgelly, died in July 2007 following a row with his partner.
His relatives are challenging the police conclusion it was suicide.
Mr Marr's mother Margaret Graham and stepfather Stuart has met Solicitor General Lesley Thomson and Crown Agent Catherine Dyer.
Local MSPs John Park and Willie Rennie, who lobbied for the private meeting, also attended.
Mrs Graham said: "We are relieved that there will be a new investigation into my son's death.
"It's five years since he died from a single stab wound to the chest and I hope that this new investigation will lead us to establishing what went on that night in Lochgelly.
"As a result of numerous mistakes by Fife Police we lost confidence in the force and we are pleased that another force will be investigating case."
An independent review published in July 2012 found serious failings in the initial investigation by Fife Constabulary.
Forensic review
Former senior CID officer David Swindle said in his report that Mr Marr's death was suspicious and should have been treated as suspicious.
He recommended a review of fingerprint and forensic evidence, and the re-interviewing of five witnesses.
The independent review was conducted following a request by the Crown Office.
Colin Marr's girlfriend, Candice Bonar, said he stabbed himself in the chest with a kitchen knife at their home in Lochgelly on 10 July 2007, after she accused him of cheating on her.
After a three-week fatal accident inquiry, Sheriff Alastair Dunlop said he could not decide if the death was suicide or homicide.
The Solicitor General is deputy to the Lord Advocate, head of Scotland's prosecution service. The Crown Agent acts as legal advisor to the Lord Advocate.
'Lost confidence'
A Crown Office spokesperson said: "The circumstances of the death of Colin Marr remain under investigation.
"The current assessment is that an investigation being employed by Strathclyde Police in other Cold Case Reviews is appropriate.
"The Solicitor General Lesley Thomson QC met with the family of Mr Marr on 10 September 2012.
"At that meeting the Solicitor General confirmed that Strathclyde Police has now been requested to investigate the circumstances of the death."
Speaking after the meeting, Labour MSP Mr Park said: "It's welcome that there will be a new investigation into Colin's death.
"We had lost confidence in Fife Police's ability to continue this investigation after a number of failings since 2007."
Lib Dem MSP Mr Rennie said: "Together with the family we simply want to establish what happened.
"It's been a painful saga for Colin's family but hopefully this new investigation will find the truth."