Glenrothes named most beautiful town in Scotland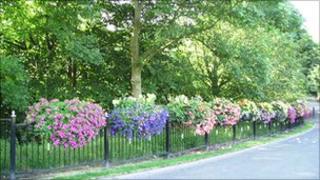 Fife town Glenrothes has been named the cleanest, most beautiful community in Scotland by the environmental charity Keep Scotland Beautiful.
The award comes in the wake of a campaign by the group Take a Pride in Glenrothes, which has launched a successful anti-litter campaign.
It has also overseen schemes to add flowers to the streets.
Glenrothes was named the most dismal place in Scotland in the 2009 Carbuncles Awards.
However, last year the Fife town won gold in the large town category of the RHS Britain in Bloom competition.
Provost Jim Leishman said: "It's great to see all the hard work of community volunteers being recognised and rewarded."
Margaret Reilly, chairwoman of Take a Pride in Glenrothes, said: "Since 2004 Take a Pride in Glenrothes have strived for continuous improvement not just within the town centre but throughout the area, our consistency with the results from Britain in Bloom and Beautiful Scotland over the last five campaigns has confirmed we are all doing something right.
"I am very proud of what we have achieved, and of the Glenrothes' communities."