Edinburgh trams: Locals win UN ruling over impact data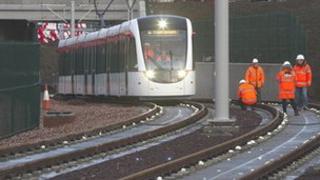 A group of Edinburgh residents has won a UN ruling against the city council over the environmental impact of the controversial trams project.
The residents, from the west end of the city, took their arguments to a UN committee which sits in Geneva.
They complained Edinburgh Council was in breach of an international agreement on access to information.
The draft findings on access to raw data could have implications for local authorities across the UK.
The Moray Feu Residents Association, led by lecturer Ashley Lloyd and retired civil servant Alistair MacIntosh, has been challenging the council's plans for a new tram system for years because of the noise and pollution created by traffic diverted onto residential streets.
'Welcome findings'
With the argument deadlocked, they felt their only option was to take the case to a committee of lawyers in Geneva under the UN Aarhus convention.
They have now been told that one of their complaints has been upheld.
The Geneva lawyers agreed that the City of Edinburgh Council failed to provide the campaigners with up-to-date information on air pollution which officials were already gathering.
Lesley Hinds, the council's transport and environment convener, said: "I welcome the draft findings of the Aarhus Committee, which dismissed all but one of the allegations.
"We note the committee's recommendation about the release of data and will take this on board.
"I will continue to engage with Moray Feu representatives and to address their concerns."