New Edinburgh Sick Children's building gets go ahead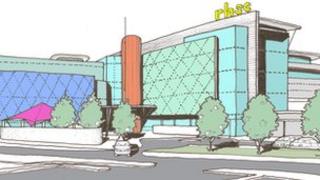 Plans to build a £150m replacement for Edinburgh's Royal Hospital for Sick Children have been approved.
It will be built at Little France with work due for completion in 2017.
Negotiations over the site for the new building, in the grounds of the Royal Infirmary of Edinburgh, delayed the project but they are now complete.
It will replace the current children's hospital at Sciennes and the department of clinical neurosciences at the Western General Hospital.
The new building at Little France will also provide new facilities for the child and Adolescent Mental Health Service (CAMHS) which will move from the Royal Edinburgh Hospital.
The project is part of a £750m package to improve hospital and community health facilities across Scotland.
'Commercial issues '
Now NHS Lothian will select a private sector firm to design, build, finance and maintain the new facility.
Health Secretary Alex Neil made the announcement as he met young patients and staff at the current Royal Hospital for Sick Children.
He also confirmed the Scottish government's commitment to investing more than £1bn in NHS Scotland capital projects over the next two years, including £485m in 2013-14.
Mr Neil said: "There have been delays with the new Sick Kids Hospital in the past, due to land and commercial issues with an inherited PFI contract on the proposed site.
"I am pleased to say there is now a framework in place to resolve the legal and commercial issues that arose in the original contract."
Charles Winstanley, NHS Lothian chairman, said: "The benefits of having children's, maternity and adult services on the same site are well documented.
"The proximity to the University and the BioQuarter will also improve opportunities for partnership working and bring research to the bedside.