UN House Scotland opens in Edinburgh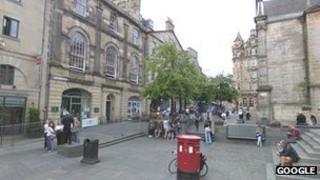 A new centre which aims to become the voice of the United Nations in Scotland has opened in Edinburgh.
UN House Scotland brings together agencies raising awareness of the UN's work on issues including child welfare, women's rights and climate change.
Based in Hunter Square, the centre also acts as a resource centre for academics, students and members of the public interested in UN affairs.
The shared facility is the first of its kind in the UK.
It includes representatives from eight UN-affiliated organisations currently working in Scotland.
Among them is the United Nations Association (UNA) Scotland, whose convenor Gari Donn said: "By combining our activities under the umbrella of UN House Scotland, we hope to raise public awareness of the work of the UN on issues that concern and, in many cases, directly affect the people of Scotland.
"Essentially, our aim is to become the voice of the UN in Scotland."
External Affairs and International Development Minister Humza Yousaf said: "The agencies and organisations who will work here already make a significant contribution to civic life in Scotland.
"By bringing their combined expertise and experience together, their impact can only be enhanced.
"The establishment of a UN House in Edinburgh is a recognition of Scotland's long and proud history as a nation with an international approach and a concern to play its part in tackling global poverty, inequality and injustice."