Paul St Pierre jailed for attack on clubber in Edinburgh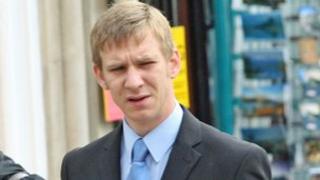 A Midlothian man who subjected a clubber to a violent and sustained assault has been jailed for nine years.
Steven Ferry, 23, was walking home in Edinburgh on 28 November 2010 when he was attacked, sustaining head injuries.
Paul St Pierre, 30, from Penicuik, denied he was responsible but a jury found him guilty of attempted murder.
At the High Court in Edinburgh, judge Lord Pentland said it was clear from the evidence he did not care whether his victim lived or died.
Another unidentified man helped beat up Mr Ferry at a bus stop in South Bridge, Edinburgh, the trial heard.
St Pierre has since lost his job with the NHS as an IT specialist.
Mr Ferry continues to suffer problems, including difficulty with memory and irritability more than 18 months later, a trial heard.
Lord Pentland said CCTV film showed St Pierre had the opportunity to walk away but did not, returning more than once to the scene.
"Witnesses said you played a part in what was described as a violent and sustained assault," said the judge.
He added: "Attempted murder is a very grave crime and it is all the more grave when the victim suffers severe and permanent impairment."
Mr Ferry and St Pierre, who were known to each other but not friends, had spent the evening at the City Nightclub in Edinburgh.
St Pierre said he was heading home when someone ran into him, knocking him down in the snow.
He claimed he chased the man, only to remonstrate with him, and saw it was Mr Ferry.
St Pierre insisted someone else grabbed Mr Ferry and pulled him into a bus shelter where the attack began.
His own efforts to stop the fight were unsuccessful and he was told "to mind his own business."
Mr Ferry was repeatedly punched and kicked, thrown against a window, then punched and kicked again as he lay on the ground and his attackers repeatedly stamped on his head.
Defence advocate Michael Anderson said father-of-two St Pierre had "lost everything" as a result of the conviction and still claimed he was innocent.