Sean Hoy jailed for rolling pin attack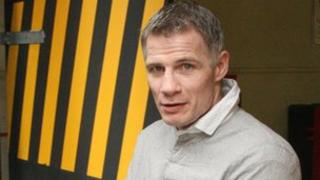 An Edinburgh man who twice had his murder conviction quashed on appeal has been jailed for six years for attacking a man with a knife and rolling pin.
Sean Hoy, 42, inflicted potentially life-threatening injuries on Edward Lenyatsa in Granton on 20 April.
Hoy admitted the attack when he appeared at the High Court in Edinburgh last month.
Passing sentence, Lord Pentland told Hoy he had displayed "a disturbing level of violence".
The judge said the physical and psychological effects of the attack had been severe and lasting for his victim.
Lord Pentland ordered that Hoy should also be supervised for a further four years on his release.
Panic attacks
Doctors said Mr Lenyatsa had suffered significant and potentially life threatening injuries.
He was left with scars on his face, neck and back after the attack and is still receiving treatment for trauma.
He suffers panic attacks when he hears noises at the front door and has moved out of the area where he was attacked.
Hoy was originally charged with attempting to murder Mr Lenyatsa after forcing his way into a flat in Granton Crescent.
But the Crown accepted his guilty plea to a reduced charge of assault to severe injury, permanent disfigurement and to the danger of life.
Hoy also admitted robbing Mr Lenyatsa of a TV and stand.
He was twice found guilty of the murder of 29-year-old David Sproule outside Skippers pub in Edinburgh in 1995.
However, he won two appeals against the verdict and permission for a further retrial was refused.