Anti-Nato campaigners deliver message to Holyrood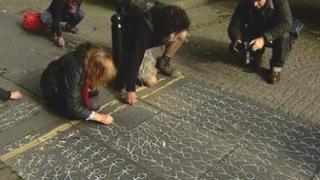 Anti-Nato campaigners have protested at Holyrood as the SNP prepares to vote on a reversal of its opposition to membership of the organisation.
To make the point, the No to Nato Scotland Coalition drew thousands of chalk stick figures on the pavement from the SNP's HQ to Holyrood.
They said the figures represented those killed in conflicts involving Nato.
Meanwhile, SNP members of the Campaign for Nuclear Disarmament said a change in party policy would be "inept".
The Nationalists have been opposed to Nato membership for more than 30 years.
However, SNP defence spokesman Angus Robertson said being part of Nato would be on condition Scotland would not host nuclear weapons.
The SNP CND group said "emotive language of threat and risk" was being used without any "serious" threat or risk assessment being made.
It added: "The impact of Nato membership on Scotland's credibility on other international issues is entirely missing.
"If Scotland is seen as a US proxy its credibility on issues such as climate change, nuclear non-proliferation and eradicating global poverty are greatly reduced."
Mr Robertson is to ask SNP delegates at the party's autumn conference on 19 October to back his new pro-Nato position.
But No to Nato Scotland Coalition spokeswoman Leonna O'Neill said the issue was wider than an SNP party matter.
She said: "We are protesting today to raise public awareness about the issues surrounding membership of Nato, and also to draw the issue to the attention of those SNP members who may not have decided where they stand on it.
"We know the SNP is saying Scotland would not have nuclear weapons, but the question of Nato membership goes beyond that.
"This goes against the SNP's long-standing opposition to aggressive wars.
A spokesman for First Minister Alex Salmond said: "The First Minister supports the (pro-Nato) policy as party leader. It is an issue that will be debated at party conference very soon and as such, it is clearly a party matter."