Hall's of Broxburn meat plant could close in February 2013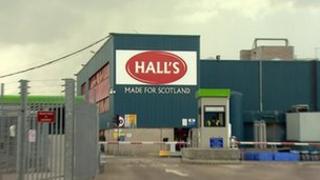 The Hall's of Broxburn meat processing plant in West Lothian will close next February if a buyer is not found, its owner Vion UK has said.
In a letter to workers, management said "detailed discussions" were continuing with parties interested in the factory, which employs 1,700 people.
It added a phased shutdown would start later this month if a "sustainable solution" could not be found.
Meanwhile, a taskforce set up to secure its future is to continue its work.
The company said no redundancies would be confirmed until the proposals from potential buyers had been considered.
Vion has previously turned down an offer from the Scottish government to buy and lease back the threatened food factory.
The company said then that accepting public money would only delay any potential decision regarding closure.
'Extremely regrettable'
In a statement released at the end of a 90-day consultation, Vion UK chairman Peter Barr said: "We have done everything in our power to avoid having to take this extremely regrettable action but we have been unable to identify any viable alternative to the closure of the plant.
"This is a very sad day for all those involved but, unfortunately, the unsustainable losses which the plant continues to suffer, combined with the challenging economic conditions across all food sectors, have left us with no alternative."
Mr Barr said the company had been working with the Scottish government to find potential new owners for the site and had "uncovered a small number of interested parties".
He added: "We are engaged in detailed discussions with these parties to establish if their proposals would provide a viable solution for the Broxburn site."
Finance Secretary John Swinney said the taskforce, which was set up in July after Vion announced plans to close the plant, would continue to work with the company to find a buyer, and measures would be put in place to help staff looking for work.
"This is disappointing news for Scotland, and particularly for those working at Hall's of Broxburn and their families," Mr Swinney added.
"Since Vion announced the proposed closure in July, the Scottish government and its agencies have taken every action in our power to secure the future of the plant, working with the company and stakeholders.
"We will continue to do so over the coming days. We are still working to secure a buyer, and the taskforce will meet again next week."
The taskforce includes representatives from the Scottish government, West Lothian Council, Scottish Enterprise, Scottish Development International, Skills Development Scotland, trades unions, the company and local elected representatives.
'Disgrace'
Labour MSP for Lothians Neil Findlay reacted angrily to news of the possible closure.
Mr Findlay said: "I am extremely angry at the behaviour and attitude of Hall's and their parent company Vion.
"It became clear during the consultation process that they were intent in closing the plant no matter what and unfortunately this has now been confirmed.
"Companies like Vion close factories without any thought about the devastation they leave behind.
He added: "West Lothian Council and the Scottish government made Vion an excellent offer to keep the factory going but they seemed determined to close it - it is a disgrace."
'Stunned and angry'
Scottish Trades Union Congress general secretary Grahame Smith said his organisation was "stunned and angry" at the latest development.
"Once again a skilled and productive workforce is paying for the mistakes of management over an extended period," he said.
Rural Affairs Secretary Richard Lochhead said that with about 65% of the pigs processed at Hall's coming from Scottish farms, the "difficult news" marked an unsettling time for Scotland's pig industry.
He added: "However, I can assure pig farmers that Scottish pork remains an important part of our food and drink offering going forward.
"We are monitoring the supply chain situation closely and Quality Meat Scotland are advising the Scottish government on options, including an alternative plant capable of up-scaling to process the majority of pigs currently consigned to Hall's."