Family in appeal over Billy Sibbald murder in Edinburgh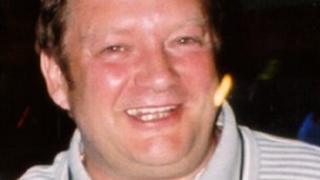 The family of a father-of-three who was murdered 10 years ago has appealed for information from the public to help police catch his killer.
Billy Sibbald, 48, was last seen leaving his home in the Portobello area of Edinburgh at about 20:00 on Tuesday 8 October 2002.
His body was found three months later on 10 January 2003.
It was lying at the side of the city's A1, between Newcraighall Road and Whitehill Road.
The Sibbald family has released a statement expressing hope that someone has the "compassion and humility" to come forward with information.
The statement reads: "We have spent 10 Christmases, birthdays and father's days without knowing how or why the one person who should be here to celebrate with us died.
"We have and will always miss having a husband, dad and brother at these family occasions, and we hope someone, somewhere, has the compassion and humility to come forward to help the police and our family."
'Cruellest of circumstances'
It is believed Mr Sibbald was murdered in the hours immediately after his disappearance and his body dumped.
He had suffered multiple stab wounds, Lothian and Borders Police said.
Det Insp Scott Cunningham said: "It has now been 10 years since Billy Sibbald was murdered and we have never given up in our efforts to bring those responsible to justice.
"His family were robbed of a loving husband and father in the cruellest of circumstances and we remain as determined as ever to achieve justice for them.
"We firmly believe that the key to solving his murder lies in the local community and we are appealing directly to anyone with information to come forward and help Billy's family put his memory to rest."
He added: "We understand that people may have previously been reluctant to approach police with any information they had at the time of his murder, however we recognise that with the passage of time, people's personal circumstances and loyalties may have changed, and they may now be willing to share any information they have with us."
Police said a number of items of clothing and jewellery that Mr Sibbald was last seen wearing, including a distinctive lighter, have never been recovered.