Hall's of Broxburn meat plant decision extended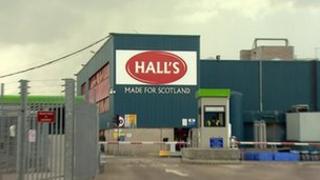 The owners of the Hall's of Broxburn meat plant in West Lothian have said they will make a final decision on the future of the facility early next week.
Dutch company Vion said it had extended the deadline for one of the bidders to buy the plant until 12:00 on Friday.
The factory employs 1,700 people. Workers have already begun talks on redundancy terms.
Vion reiterated it would start phased closure plans at the plant if a buyer was not found.
A Vion spokesman said: "As we stated last week, unless a viable offer is made for the plant, the phased closure plans will regrettably be implemented.
"Therefore it's important for everyone concerned that we are able to make a definitive decision as soon as possible and we hope to be able to announce the outcome of this process at the start of next week."
In a letter to workers last week, management said "detailed discussions" were continuing with parties interested in the factory.
It added a phased shutdown would start later this month if a "sustainable solution" could not be found.
West Lothian Council has estimated that about a quarter of the surrounding community in Broxburn and Uphall work at the factory.
Speaking to BBC Radio's Good Morning Scotland programme, council leader John McGinty called on Vion to "do the right thing" for its workforce.
He said: "Our hope would be, if there is any realistic prospect of making the plant operational and keeping the business going, Vion will give a fair wind to a bidder who comes forward with that goal in mind, and certainly we would encourage any such bid.
"Vion said at the start of the process that they had a good workforce in Broxburn who had worked well and worked hard. We would expect the company to try to do the right thing by the workforce."
Community support
The taskforce chaired by Finance Secretary John Swinney, which was set up in July after plans to close the plant were announced, met earlier.
Mr Swinney said: "The Scottish Government has been committed to doing all that it can to help those working at Hall's of Broxburn and their families throughout this whole period.
"Since Vion announced the proposed closure in July, the Scottish Government and its agencies have taken every action in our power to secure the future of the plant, working with the company and stakeholders.
"We will continue to work with Vion over the coming days as they consider their final two bids."