Hopetoun House: Man sues over bat walk 'ha-ha' fall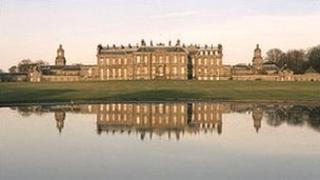 A man who took his grandson on a bat walk at an Edinburgh stately home is seeking £35,000 damages after he fell into a trench in the grounds.
John Cowan said he "stepped over" the edge of an 18th century feature called a "ha-ha" in the pitch black as they returned to Hopetoun House car park.
Mr Cowan, 65, suffered a fractured right ankle and underwent a series of operations.
The incident happened on 5 September in 2008. Liability is being contested.
He raised an action suing the Hopetoun House Preservation Trust and its trustees including the Marquess of Linlithgow and Lord Hopetoun at the Court of Session in Edinburgh.
Mr Cowan, a former water quality manager from Livingston, in West Lothian, told the court: "After I went over the drop when I sort of came to my grandson was on top of me."
"I managed to crawl up the bank to the side of the road. I had to get my grandson to contact some people coming along because I couldn't shout because of my throat," he said.
Mr Cowan explained to the court that several weeks before he had surgery on his thyroid.
Mr Cowan said they took a torch and joined about 20 people who turned up for organised event with a ranger and members of a bat society in attendance.
Mr Cowan said he had never been to the historic house before and was not familiar with the lay-out of its grounds.
His counsel Graeme Middleton asked him if there was any discussion about how they were to get back to the car park and he replied: "No."
Mr Cowan said there was lighting at the courtyard at the front of the house but none beyond that.
He said it was pitch black at the point where he went into the ha-ha. He said he thought there was a lawn and path in front of him at the time.
No warning signs
"I didn't know what a ha-ha was beforehand. It was to keep animals from leaving an area in country parks," he said.
"Basically it's flat ground, a drop, a flat bit and ground sloping up again to the same level.
"When you get to the top of the wall there is a straight drop, a small flat bit and a slope bringing the ground back to the same level," he said.
He estimated the drop at the site at about 5ft.
He said the ha-ha was not illuminated or fenced and he did not see any warning signings.
The trust said: "The ha-ha, which has been in existence since the 18th century, was a well established, permanent and familiar feature of the landscape at Hopetoun.
"It was not concealed. It presented no unusual or special dangers. There is no history of accidents or complaints relating to it. There was no duty on the defenders to protect the pursuer against such natural and obvious dangers," it is said.
The hearing before Lord Bracadale continues.