Edward Beckley jailed for killing Sarah Stewart in head-on crash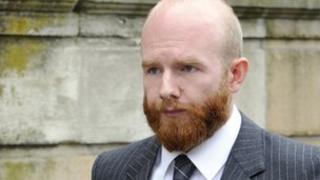 A West Lothian van driver has been jailed for two years for causing the death of a woman in a head-on crash.
Sarah Stewart, 77, from Moffat died in the collision on the A701 Dumfries to Edinburgh road and her husband, George, then 78, was seriously injured.
Edward Beckley, 27, from Bathgate, was found guilty of causing death by dangerous driving on 3 March 2011.
Judge Lord Boyd imposed a prison sentence despite a plea for leniency from his victim's family.
Beckley, whose van smashed into Mrs Stewart's car while trying to overtake a lorry in the dark near St Anne's Bridge, was also given a four-year driving ban.
At the High Court in Edinburgh, Lord Boyd was shown testimonials for Beckley - including a letter from Mr Stewart's nephew, Andrew Dick.
'Wrong judgment'
Mr Dick wrote that Beckley had made "a wrong judgment call" but had shown integrity after the accident.
He said no purpose would be served by sending him to prison.
Lord Boyd told Beckley: "That letter says much about the family's capacity for forgiveness.
"Possibly of more importance from my point of view is that your integrity and sincerity has impressed the family."
However, Lord Boyd said: "I take no pleasure in telling you I have concluded I have to send you to prison."
Beckley admitted he was to blame for the crash, but his plea of guilty to a reduced charge of causing death by careless driving was rejected.
He stood trial and a jury found Beckley guilty, by majority, of causing death by dangerous driving.
At the time of the crash, Beckley had been heading to visit his grandmother in hospital.
But he admitted he had no urgent need to overtake the articulated lorry.