Hall's of Broxburn factory: War of words between Vion and bidder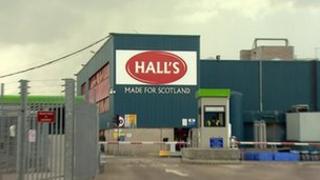 A war of words has broken out over the failed bidding process for the Halls of Broxburn meat processing plant in West Lothian.
Factory owners Vion and one of the bidders both issued statements criticising each other over aspects of the bid.
The local MSP Fiona Hyslop said it was "time to move on".
Some 1,700 jobs will be lost when the staged closure of the factory is complete February next year.
Dutch-based firm Vion announced earlier this week that neither of the two bids it received to take over the factory were viable.
'Basic information'
One of the bids was put forward by Steve Green from Graf Capital. After his offer was rejected, he said he was not given a proper chance to save the factory and that closure could have been avoided.
On Wednesday, Vion hit back at the claims and said Mr Green had all the help he needed - but the offer was not good enough.
Peter Barr, chairman of Vion UK, said: "Following a series of inaccurate statements and untruths in the media by Mr Steve Green in relation to the Hall's of Broxburn plant, I would like to provide clarification on a number of points.
"Mr Green has made reference to 'a seven-figure bid to buy the factory' tabled by Graf Mortgage Corporation.
"He makes no mention of his demand that Vion pay him an eight-figure sum, in cash, to take over the business.
"In addition, he also fails to reference the fact that he asked for all equipment, vehicles, stock and transitional services to be provided to him at no cost, the value of which we would estimate at a similar amount.
"In spite of this demand for tens of millions of pounds, Mr Green has been unwilling to provide us with the most basic information to validate his proposal to safeguard the ongoing employment of the workforce."
'I share doubts'
In his own statement, Mr Green said: "To date we have received no response from Vion. They have however embarked on a campaign of trying to smear the Graf bid.
"This is a cynical distraction, the loss of 1,700 jobs should not be handled as a corporate game.
"We have issued a press release to deal with the inaccuracies within their statement but feel Vion are turning this in to a charade."
Fiona Hyslop, the SNP MSP for Linlithgow, said: "I share some of the doubts about Vion's intentions but now I want to focus on the recovery plan for the workforce and the local community.
"Debating whether Vion ever intended to sell the plant is no longer helping the 1,700 workers losing their jobs."