Hens found with legs tied together in box in Dunfermline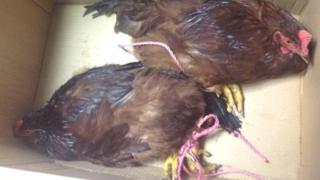 Two hens have been found dumped in a cardboard box with their legs tied together.
The Scottish SPCA was alerted after a member of the public found the birds on Robertson Road in Dunfermline, Fife, on Monday.
Their legs had been bound with red twine. They have been named Hilda and Rita.
The Rhode Island red hens are now being cared for at the Scottish SPCA's Angus, Fife and Tayside Animal Rescue Centre.
Jenni Wright, a Scottish SPCA animal rescue officer, said: "Hilda and Rita were extremely frightened when they were found.
"They are also underweight and were really hungry and thirsty, indicating they had been without food or water for some time.
"Hilda's comb is damaged, which suggests she may have been kept in a very small cage over a prolonged period.
"We think that whoever abandoned Hilda and Rita tied their legs together to prevent them escaping from the box.
"This was a very cruel thing to do and caused them both a great deal of distress."