Cat trapped in van engine gets paws burnt in drive across Edinburgh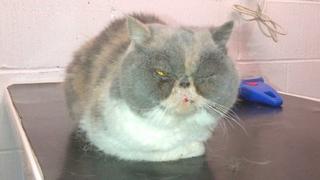 A cat is being treated for burnt paw pads and a singed coat after travelling under a van bonnet for six miles in Edinburgh.
The driver found the Persian cat, who has been named Penelope, when he stopped to investigate a burning smell.
Penelope crawled inside the van when it was parked in London Road on Tuesday.
She also has a fractured jaw and cut under her chin as well as a missing tooth. It is thought she fell from a height before climbing into the engine.
The Scottish SPCA is hoping the owner of the cat comes forward.
Indoor cat
Steph Grant, of the Scottish SPCA, said: "Penelope is receiving antibiotics for her burns and has had her jaw wired. She's doing well and has proven to be very friendly and good natured.
"It could be that Penelope is a house cat and isn't used to being outdoors so she went inside the engine for warmth and shelter.
"She's quite a distinctive girl so we're hoping someone will recognise her and come forward.
"Penelope's owner must be very worried and we would love to return her home after her frightening ordeal."