Some NHS Lothian patients 'could be sent to Europe'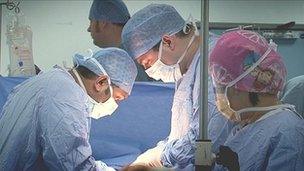 Patients might have travel to Europe for operations in a bid to stay within new guidelines of being treated within 12 weeks, a health board has said.
NHS Lothian said it could have up to 500 untreated patients by the New Year if it did not make contingency plans.
Patients could be sent to other health boards in Scotland, the private sector, elsewhere in the UK, or to Europe.
However, NHS Lothian said the number expected to be offered treatment outside Scotland would probably be low.
Legislation since 1 October means operations must be conducted within 12 weeks.
Tim Davison, the health board's chief executive, said: "We can't plan to break the law. If we keep going the way we are, we could have 400 to 500 patients who require complex procedures who may not be seen. We need to ramp up our scope for where we look for treatment.
"Any patient listed for inpatient or day case treatment from 1 October has a legal right to be treated within 12 weeks and our job is to try and treat them locally and we will do all we can to ensure that happens.
"If we can't do that we'll try to do it in Scotland, if we can't do it in Scotland we'll try in the United Kingdom, if we can't do it in the UK it's Europe, but we expect the numbers who are offered treatment outwith Scotland to be low.
"We are discussing the processes for identifying and selecting healthcare providers outwith Scotland with NHS National Services Scotland and processes will be in place to ensure the standards and quality of treatment."
Related Internet Links
The BBC is not responsible for the content of external sites.