Dalgety Bay radiation: Particles pose 'low risk' to public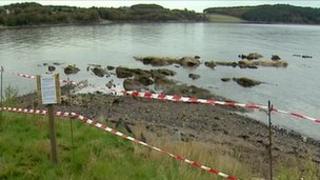 Radiation particles found on the beach at Dalgety Bay pose a low risk to public health, scientists have said.
The Health Protection Agency (HPA) concluded the chance of a regular beach-user coming into contact with radioactive material ranged from one in 1,000 to one in 10,000.
The likelihood of anyone developing a fatal cancer was smaller than one in 100 million.
The HPA said people should not stop using the Fife beach.
But its report emphasised that regular radiation monitoring and retrieval of radioactive objects discovered at Dalgety Bay should continue.
And it said a detailed public health risk assessment should be commissioned. Further work is required to do such an assessment, including a survey of how people use the beach, the report added.
'Long-term strategy'
The Scottish government asked radiation scientists at the HPA late last year to assess the risks to public health from radioactive sources discovered at the beach.
Dr John Cooper, director of the HPA's Centre for Radiation, Chemical and Environmental Hazards, said: "Our view, as explained in this new report, is that although the risks to public health from radioactive objects on the beach are low, momentum must be maintained to resolve the problems at Dalgety Bay.
"We also believe that every effort needs to be made to work towards a timely agreement on the long-term management strategy for this situation - for the benefit of all those involved.
"Clearly there is work still to be done at Dalgety Bay. But the agency is very encouraged by all that has been achieved there in recent months and will play its part in continuing to ensure that any risk to the public from radiation at the beach is properly estimated and minimised wherever possible."
Radium paint
Radioactive particles were first found at Dalgety Bay about 20 years ago.
They are believed to have come from radium paint used to illuminate the dials of World War II aircraft which were then dumped in the area.
Excavations are currently being done on the beach to determine the extent and source of the contamination.
The Ministry of Defence has been given a deadline of next May to come up with a workable plan to clean up the beach and prevent it becoming the first in the UK to be designated radioactive contaminated land.