Hall's of Broxburn closure: Workers begin to leave meat factory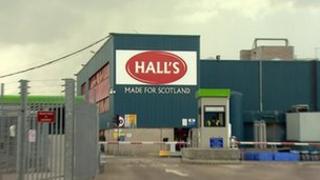 The first Hall's of Broxburn workers have begun leaving as the firm starts to wind down its factory in West Lothian.
About 149 butchers and packers were due to have left by lunchtime after the abattoir was closed down.
It is understood that meat will now be brought into the plant for processing.
The factory's owner, Vion, announced last month that it would close by February next year, with the loss of 1,700 jobs.
A further 28 jobs are due to go next week.
Esther Stewart, a union convener, told the BBC Scotland news website: "Some of the staff came in at 08:00 to empty their lockers. It was terrible.
"People were very upset and women were crying.
"Not only were they losing their jobs but they were also leaving colleagues that they have known for years, it was very touching."
She said there were also fears that staff who thought they had a job until after Christmas may have to leave sooner than planned after supermarket chain Asda pulled out of an order early.
'Valued supplier'
A Vion spokesman said: "We're still assessing the implications of Asda's decisions and what impact that will have on our plans for the phased closure of the facility."
Asda said it gave Vion three months notice that its pork contract with the company would end on 31 December.
Asda is the last major supermarket to have a contract at the Broxburn plant.
A spokesman for the retailer said: "Vion remains a key and valued supplier for Asda across our chicken and lamb categories.
"This decision was not taken lightly, however we feel Vion is no longer best placed to meet the changing needs of our customers.‬‪
"We have built a strong relationship with our Scottish pig farmers in recent years and we remain committed to sourcing pork from Scottish farms."
A jobs fair for workers will be held at Strathbrock Community Centre in Broxburn on 10 November.