Extra NHS Lothian staff to reduce waiting times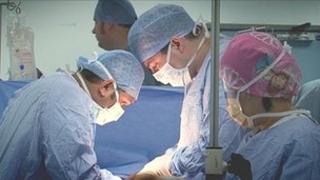 About 250 new theatre staff are to be recruited by NHS Lothian in an effort to tackle a backlog in operation waiting times.
The health board admitted last month some patients may have to travel to parts of Europe for operations if new 12 week targets are to be met.
The new surgeons, nurses and health workers will allow theatres to operate over weekends and evenings.
It comes as Health Secretary Alex Neil chaired the board's annual review.
He heard from NHS Lothian's senior management team about the steps taken to reduce the number of people waiting for treatment.
'Increase capacity'
Officials at NHS Lothian are spending about £10m tackling the problem after it emerged that it had manipulated waiting times.
Chief executive, Tim Davison, said: "We are making real progress in reducing the number of people waiting to be treated, but I would like to reassure those affected that we will remain attentive and will not become complacent.
"The additional staff we are bringing in will allow us to increase capacity and ensure more people are treated locally and in a timely manner."
Earlier in the day Mr Neil met with staff and patients at the Western General Hospital in Edinburgh and heard about the steps being taken to reduce the board's waiting times backlog and ensure people are treated as quickly as possible.
Mr Neil said: "NHS Lothian is engaged in the largest recovery operation against waiting times ever undertaken by a Scottish NHS Board.
"It's a tough challenge but new chief executive Tim Davidson is absolutely the right man for the job and I am pleased with the significant progress made so far.
"These extra medical staff will make all the difference in the fight to get NHS Lothian back on track."