Trial over death of Alexander Ormiston told he had 'Elephant Man' injuries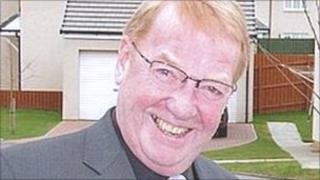 A haulage boss was so badly hurt just days before his death he looked like "the Elephant Man", a trial has heard.
Alexander Ormiston, 63, from Fife, was attacked on 19 May 2011 and died two weeks later on 3 June 2011 in Edinburgh's Western General Hospital.
He was allegedly handcuffed, threatened with knives against his neck and an imitation gun and kicked and punched.
Three men, Brian Kennedy, 31, Paul Breslin, 41, and Ian Oliver, 26, deny culpable homicide.
'Black and blue'
Their trial at the High Court in Edinburgh has heard evidence from driver and mechanic, Brian Burns, 41, who said his employer's face was "all black and blue" when he turned up to work.
He added: "He was just staring into space."
He said Mr Ormiston refused medical help so Mr Burns took him to the home of brother Douglas Ormiston in the Trinity area of Edinburgh.
Mr Burns described how he returned to the house the following day to find Mr Ormiston's face was even more swollen and what he saw caused him some concern.
Advocate depute Tim Niven-Smith, prosecuting, asked Mr Burns if he made a joke about Alexander Ormiston's appearance.
"Yes he was like the Elephant Man," replied Mr Burns.
The trial also heard that Alexander Ormiston was proprietor of Ormiston Transport based at Leith Docks.
Swollen mouth
He was said to be locked in a legal dispute with another haulage operator, and one of the man accused of killing him, Brian Kennedy, who was suing him for £80,000.
It is alleged that on 19 May, Mr Kennedy, along with Mr Breslin and Mr Oliver, forced their way into Mr Ormiston's home in Rosyth and demanded money.
The trial also heard from Douglas Ormiston, 66, who described how his brother arrived at his house.
"His face had been brutalised for some reason or other," he said.
He continued: "His face was swollen, very severely swollen about the mouth. He had some scuffs and abrasions as if he had had an accident of some description."
The trial continues.