School-run exclusion zone plan for Haddington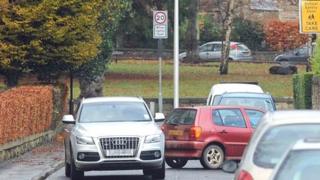 A car ban is being planned for streets around schools in an East Lothian town in a bid to stop dangerous driving by parents dropping their children off.
East Lothian Council wants to take the action in Haddington following complaints about inconsiderate parking and dangerous manoeuvres.
Pedestrian zones would be implemented at King's Meadow Primary, Haddington Infant School and St Mary's RC Primary.
The roads affected would be Victoria Road and Neilson Park Road from April.
It is thought it could be the first time in Scotland such measures will have been implemented.
Careless drivers
Under the proposals, cars would be banned from the streets between 08.30 and 09:30 on week days.
Between Mondays and Thursday, the ban would also be in force between 15:00 and 16:00, while on Fridays it would be from 11:45 until 12:45.
The council said it was applying to the police to have officers enforce the rules.
The plans would be implemented in an 18-month trial.
Michael Veitch, East Lothian Council's transportation spokesman, said: "We are aware of problems caused by careless drivers dropping off or collecting their children at school.
"The streets in the proposed area are both cul-de-sacs which have restricted space for vehicle manoeuvres.
"The council believes this measure will greatly reduce potential dangers to young children and families."
Neil Greig from the Institute of Advanced Motorists said the exclusion zone seemed like "a rather draconian measure to crack a fairly small problem".
He added: "School-gate parking is an issue obviously, but it is usually just busy once or twice a day, and the rest of the day and most weekends it is quiet.
"I think most issues are actually about dealing with local residents, it's about congestion, it's about damage to the pavement, it's about the perception that there's a safety problem there.
"In actual fact there are very few accidents involving children or pedestrians or cyclists at school gates - they are a very safe area to be in."