NHS Lothian forced to reopen wards to deal with winter demand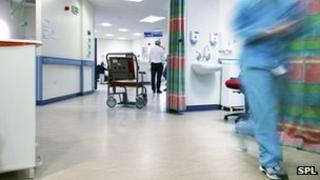 A health board is being forced to reopen wards at a closed hospital to deal with emergency treatment and cases of the winter vomiting bug.
NHS Lothian said the Royal Infirmary of Edinburgh was facing increasing pressure from emergency admissions.
Staff will open two extra wards in the Royal Victoria Hospital, which shut in August, within the next few weeks.
A spokesman said extra capacity was needed to ensure a safe service for patients.
NHS Lothian said it expected an increase in the number of patients over the next few months, exacerbated by delayed discharge patients and other factors including the winter vomiting bug norovirus.
The health board also said it was having difficulty coping with capacity at the Royal Infirmary of Edinburgh because of rising population levels in Lothian.
Plans for extra capacity are in place but will take "some months" to achieve, leading to the "temporary alternative" of reopening Royal Victoria Hospital wards.
Nurse director Melanie Hornett said: "We have taken a long, hard look at the facilities and resources we have available as part of our winter planning exercises and we know we don't have the abilities to meet demand.
"As a result, we have put this temporary solution in place to allow us to serve patients in a timely manner, while increasing our capacity from within."
Two extra wards will reopen, with the possibility of more as winter demand increases.
The Royal Victoria Hospital was closed in August after the last ward moved onto different sites within NHS Lothian, including the new Royal Victoria Building at the Western General Hospital and the Royal Edinburgh Hospital.
Scottish Labour MSP Jackie Baillie said NHS Lothian had to address "fundamental weaknesses and management failings".
She added: "To have to reopen a closed hospital due to seasonal demand shows how little planning has been undertaken. There are, yet again, serious questions to be asked about those managers at the top who seem unable to get a grip of the NHS in Lothian."
Ms Baillie called for Health Secretaty Alex Neil to intervene, take control and take responsibility for the health board.