Vinnie Jones advert role for heart attack golfer saved by Bee Gees song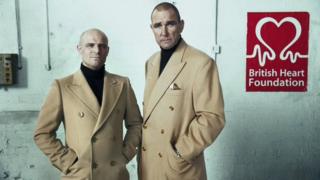 An amateur golfer who owes his life to actor Vinnie Jones is starring with him in a new advert promoting the technique which re-started his heart.
Alan Linton, 39, collapsed on a Fife golf course earlier this year.
Mr Linton was saved by friends who remembered the British Heart Foundation's CPR advert featuring Jones and the Bee Gees song Staying Alive.
Doctors said he would not have survived otherwise. Mr Linton now appears in the latest version of the advert.
The golfer collapsed from a heart attack playing on a course near Colinsburgh on 5 February.
His friends remembered the Vinnie Jones advert, which told people to give chest compressions in time to the 70s song.
In the 999 call Mr Linton's friend can be heard shouting: "I'm doing the Staying Alive thing."
At the moment, fewer than 10% of the 30,000 people in the UK who have a cardiac arrest out of hospital each year survive long enough to leave hospital alive.
The British Heart Foundation said that if someone carries out early CPR, it may double a casualty's chances of survival.
The charity said so far 28 people had contacted it to say Hands-only CPR had helped to save a life, including Mr Linton, from Ladybank in Fife.
Mr Linton said: "To put it simply, I'm here today because of Vinnie Jones, the Bee Gees and Hands-only CPR.
"It must have been a frightening moment for my golfing buddies to see me collapse and stop breathing but thankfully they remembered hard and fast chest compressions."
Jones added: "Whatever you do, tell your family and mates about Hands-only CPR. It could turn out to be a life-saving decision."
Professor Peter Weissberg, medical director at the British Heart Foundation, said the key thing about the technique was that no special skills were needed.
"It's simple, you can't do any harm and you may well save a life," he said.