Anna Gristina: New York 'madam' sentenced then released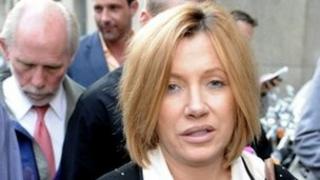 A Scottish mother who admitted promoting prostitution in New York has been sentenced to six months in jail but then freed for time served.
US prosecutors said Anna Gristina, 45, who is originally from Edinburgh but is a legal US citizen, was the madam of a Manhattan sex service for 15 years.
She had claimed she was offering a matchmaking service but later admitted a charge as part of a plea deal.
She may now be deported as a result of the conviction.
At Manhattan Supreme Court a judge handed Gristina a six-month jail term followed by five years probation, the District Attorney's Office said.
She was then released as she had already served the time.
The charge stems from an incident in July 2011 when authorities say she arranged a tryst between two women and an undercover police officer posing as a client.
She was arrested on 22 February as she left a fundraising meeting for her business, prosecutors said.
Gristina spent four months in jail before being released on a $250,000 (£157,000) bond in June.
Prosecutors alleged that she made millions from the business, which was said to have had a roster of wealthy clients.
She lives on a 12-acre property in Monroe, which is about 50 miles (80km) north of New York City, and previously spent time helping abandoned pet pigs find new homes, her lawyers said.